The Ordesa and Monte Perdido National Park originated in this valley in 1918.
The Ordesa Valley, with its sheer walls and its rippling strata, is simply breathtaking. The River Arazas cuts through it running from east to west and plunging down spectacular waterfalls like the "Estrecho" or the "Cola de Caballo".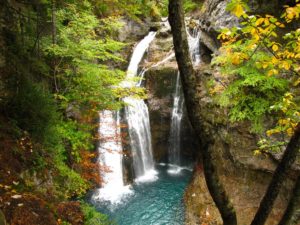 A series of peaks of over three thousand metres rise up to mark the border between Spain and France. In the middle of them is the "Brecha de Roldan", an impressive gap providing a natural pass between the two countries. Lower down the slopes on the Spanish side is a string of glacial valleys and circuses like the "Cotatuero", where the famous "Clavijas de Cotatuero" can be found.
High up on the valley's vertical walls run a series of flat ledges allowing access along narrow paths which are not for the faint hearted.  The "Hunter's path" or "Senda de los Cazadores" is popular, running along the south side of the valley, as is the much higher and dizzying "Faja de las Flores" along the north side.
Information points in Ordesa area
National Park information point : Avda. Ordesa s/n. 22376 Torla. Tel: 974 48 64 72
Buses: every 15 minutes from Torla to the meadow car park at Ordesa (Summer months, Easter week and some national bank holidays)
Interesting link:
Hp-Hp Trekking : Rutas transfonterizas por la Comarca de Sobrarbe y el departamento de Hautes Pyrénées
Monte Perdido: 
The Monte Perdido mountain range is made up of Las Tres Sorores or Treserols, Los Picos de Monte Perdido (3.355 m), Cilindro (3.328 m) and Añisclo (3.263 m) also called Soum de Ramond, dedicated to the mountaineer Louis Ramond de Carbonnières, one of the first explorers and high mountain experts in the Pyrenees. There are 22 peaks of over 3000mts along this section.
Below you'll find several useful links related to safe ascents and general information about Monte Perdido:
A guide to ascending Monte Perdido
Timings guide for route planning  
 Panoramic view of Monte Perdido access routes
Information about " la Escupidera"
Information about the North Face chimneys