The Pineta Valley carved out by the River Cinca, sits to the east of Monte Perdido and is one of the most glacial valleys in the National Park.
The high walls on the north faces of the Tres Marías and the Tres Sorores dominate the landscape. Close by peaks of 3000mts plunge dramatically down to 1300mts in the valley meadows below. This 2000mt drop is the highest in the Pyrenees and is more akin to the scale of things in the Alps. 
We are most probably situated within some of Spain's most dramatic and powerful scenery.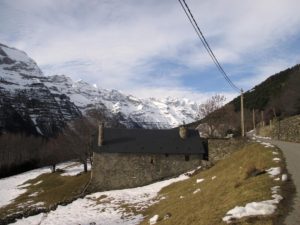 Information points:

Information point "Casa Larraga": Plaza Mayor s/n 22350 Bielsa.
Tel: 974 50 10 43
Information point in Pineta:at the end of the road into the valley on the right bank of the River Cinca.