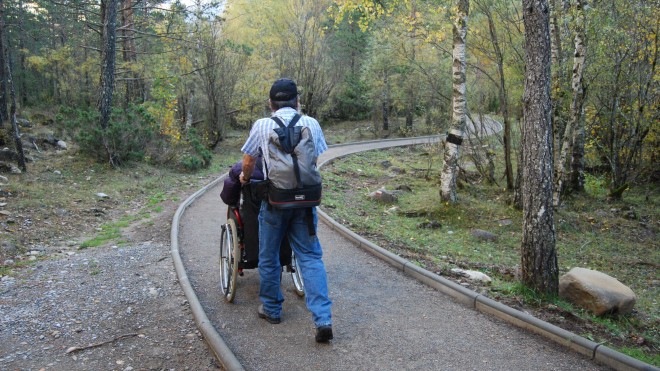 Hiking in Sobrarbe is now possible for people with limited mobility thanks to the wheelchair access along of some of its footpaths and to the free availability of "all terrain wheelchairs" adapted to hiking. These are also known as Joëllettes and are provided in the Ordesa and Monte Perdido National Park where the first of these routes, the Pradera de Ordesa, runs for 1200mts alongside the River Arazas.
More info on the Pradera de Ordesa Accessible footpath
As well as this initiative, another one has been started in the Sierra and Cañones de Guara Natural Park; the footpath to the millennial oak at Lecina has been adapted for wheelchair access to one of Guara's most exceptional trees.
Beyond our area, the Tamara footpath (more than 400 mts) has been adapted as well as  the paths up to the "Salto de Roldan" and the Vero. You can now also access the bird-watching hides at y Nueno, Alquezar and Santa Cilia de Panzano.
In the Valley of Pineta a 700mt accessible footpath called El Cornato has been opened 4.5km from Bielsa. It runs through a flat pine forest along the River Cinca and in the Car Park there's a high relief map, information in Braille and text written in macro characters. The path is between 120 and 180cm wide depending on the terrain's characteristics.
Along the way, visitors can consult any one of 11 nature information panels, where you can feel the growth rings of a pine tree, the resin sacks of a young Scots pine and wild grasses whilst hearing the river flow by.