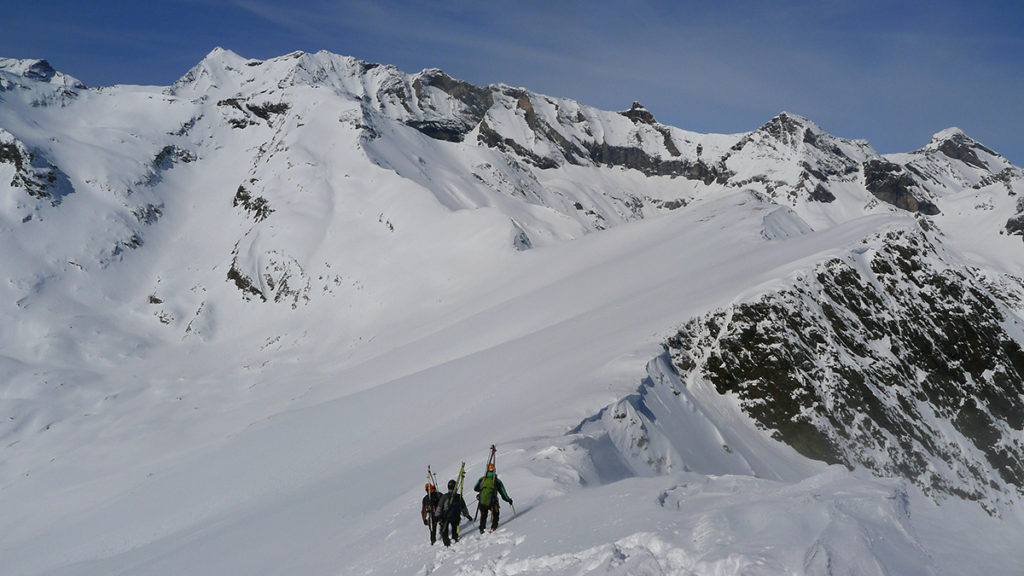 Mountaineer skiing routes in Sobrarbe
Fubillons from Gistaín
Access is from the picnic spot at Cruz de Puyadase in the village of Gistaín. Follow the track that goes up to the west and cross the La Poma gulley at its highest point. From there head north passing to the right of the radio mast and continuing up to the peak of Fubillons at 2425m. The way back down cuts across the trail you came up.
Level: Easy.  Time: 4h.  Climb: 930m.
Goriz mountain hut via the Sierra Custodia
Chinipro via Chisagüés
Access is along the Chisagüés track, leave the car park at La Borda Bruned, follow the track along to the end of the valley, cross the metal bridge and continue in a westerly direction until the Petramula waterfall. From here you'll reach the flank of the Chinipro, keep going west, go through the Punta de las Puertas and you'll reach the summit at 2781m. The easiest way down is via the same route.
Level: Medium. Time: 5h. Climb: 1100m aprox.
Marioules via Pinarra
Access from the car park at the southern exit of the Bielsa tunnel. Follow the white and yellow marks of the PR up the Pinarra valley. Go up the valley on its right hand side and head north east at the top. It's best to follow the valley up until you're almost at its end and then go up the hill just before the peak of Marioules (2563m). You have two options for the descent: down the way you came, or if you have a car on the other side, going down into France, leaving Batillance on your right and ending up in the car park on the French side.
Level: medium. Time: 4h. Climb: 900m.
Cotiella via Labasar
Access is via the village of Sarvisé along the track to the Ibón de Plan as far as the snow reaches.  500m before the Labasar mountain hut take the north-east route going up the valley towards the pinnacles of Labasar.  Once past them cross the Baticiellas gulley and go up the Pala del Puerto hill, from there go down to the Ereta de las Brujas plain and from there you can reach Cotiella's summit (2912m)
Level:  high.  Time: 8h.  Climb: 1242m.
Tallón from Bucaruelo via La Brecha
Access is through the Bujaruelo Valley and over the San Nicolás Bridge. Go up the path to the pass of Bucaruelo. From there, in an almost horizontal traverse below the north face of the Tallón,  you'll reach the Serradets pass and then continue up to the Brecha de Rolando and then head west below the Bazillac peak until you reach El Tallón (3144m). The safest descent is back down the same way.
Level : medium.  Time: 9h.   Climb: 1810m.
Look in the reference guides for more information :
Aneto-Posets mountaineer ski guide.
Jordi Corominas, Ed. Verticualidad
Ski trails. Aragonese Pyrenees. Volumes II and III.
Jorge García Dihinx, Ed. Prames